This year, the LEC is having one of the most interesting Spring Splits that we have had in a while, due to the results that we are having in the games and how the classification board is now distributed.
The first half of this 2021 Spring Split has just ended, and we are about to start the second round with a very interesting ranking: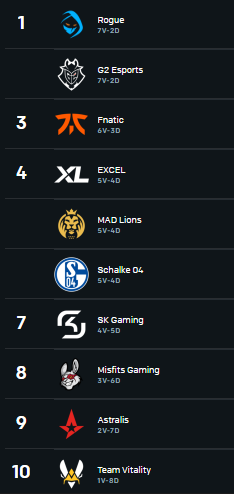 As you may have noticed, the first position is once again shared by two teams: Rogue and G2 Esports.
Right before the game that match these two teams, the situation was quite different, as Rogue was alone in the leadership, due to a couple of losses that G2 Esports had gathered on the previous games.
But this time, the MSI champions managed to get the victory in a game that exceeded 50 minutes, and that many fans were anxious to watch, as for now, both teams are considered the strongest of the European competition.
The game was super funny, from the drafts to the in-game plays, where both teams kept trading objectives all the time, and we were treated to clown-fiesta in the last minutes of the game too!
With this victory, G2 Esports takes the lead back, and clears any doubts about their performance in the last couple of games, after losing to Schalke 04 and Fnatic, two of the strongest contenders right now.
From now, both teams cannot make mistakes, as the second half of the split starts next week, and Playoffs are around the corner!
Related article: