The Legends of Runeterra Patch 1.2 has not yet stabilized and a large variety of decks are being test on ladder. Meanwhile, in the tournament scene, Duels of Runeterra #10 arrived as the first major community tournament in Patch 1.2, providing early glimpses into what decks might dominate the competitive format in the weeks to come. The tournament also expanded into Southeast Asia — whose winning decks are featured here — adding a third region to the pool.
The analysis of three top 16 line-ups showed Vi/Heimerdinger Control, Sea Monsters, and Ashe/Sejuani Frostbite Control to be the most played decks, pushing the ubiquitous meta king Bannerman Midrange to 4th place. Old archetypes like Burn Aggro, Corina Control, and Endure Midrange have either completely disappeared or are featured in disproportionately fewer line-ups.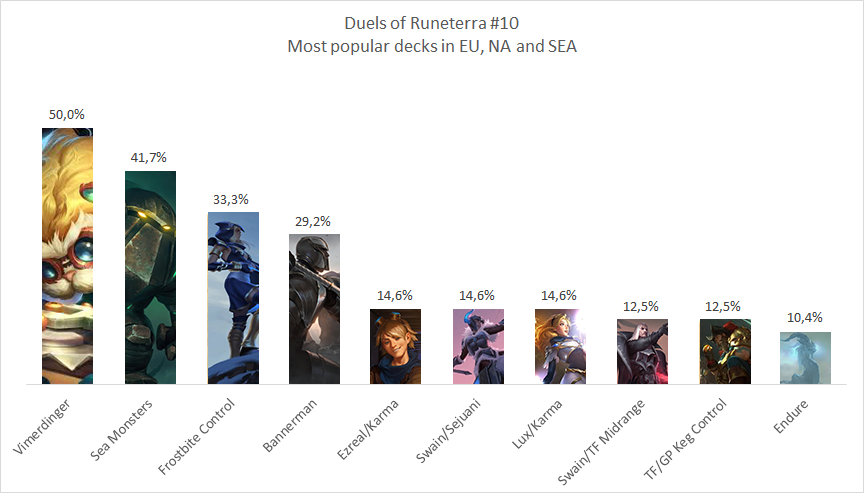 In North America, Runeterra veteran "freshlobster" finally took the crown from Winding God's head, ending his three-peat championship run. In Europe, newcomer Ranu prevailed over established names and streamers to take his first Duels of Runeterra championship.
Duels of Runeterra EU #10 — Ranu's championship decks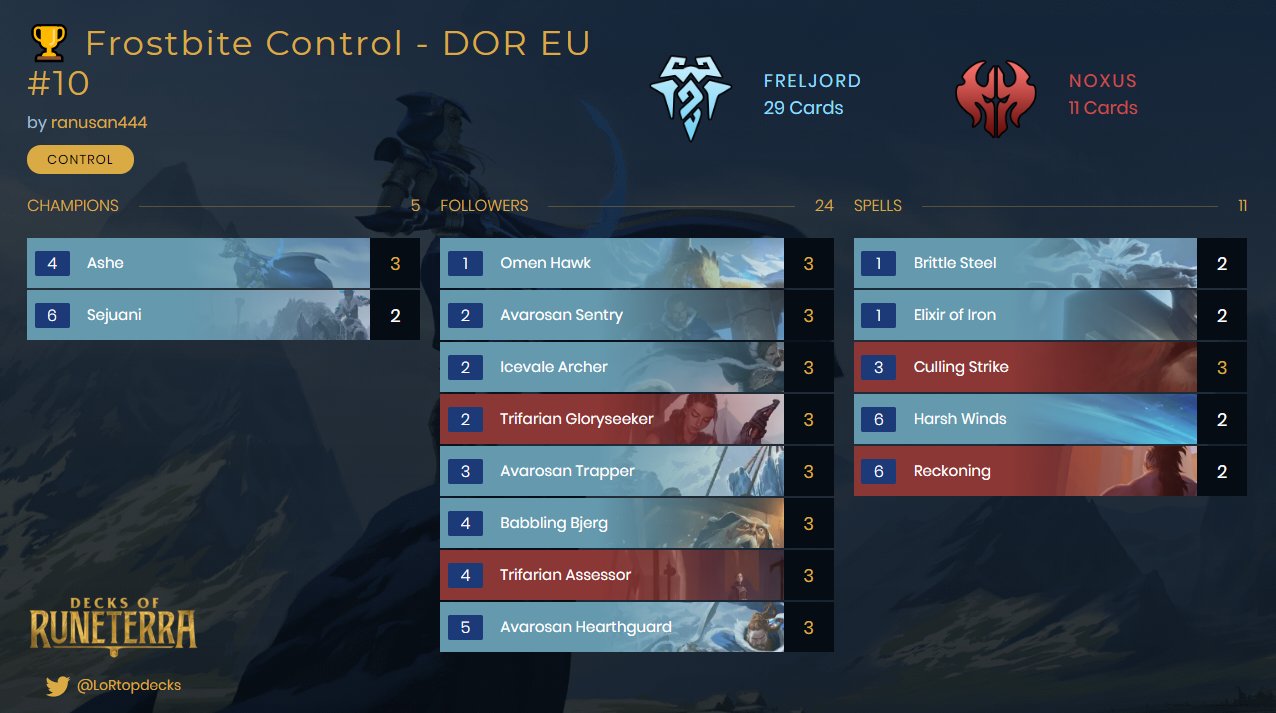 The Frostbite Control is an old archetype of Legends of Runeterra, which never quite became Tier 1, due to its struggles against fast decks. With the meta slowing down, the Frostbite Control can absolutely dominate midrange decks and put pressure against controls, making it a strong deck in tournaments, where you can ban its toughest match-ups.
Can I play it on ladder: It remains ill-advised. There are better Freljord decks for ladder, including the MF/Sejuani Plunder Tempo and Swain/Sejuani Midrange decks, which perform well against a wider variety of decks, so try those instead.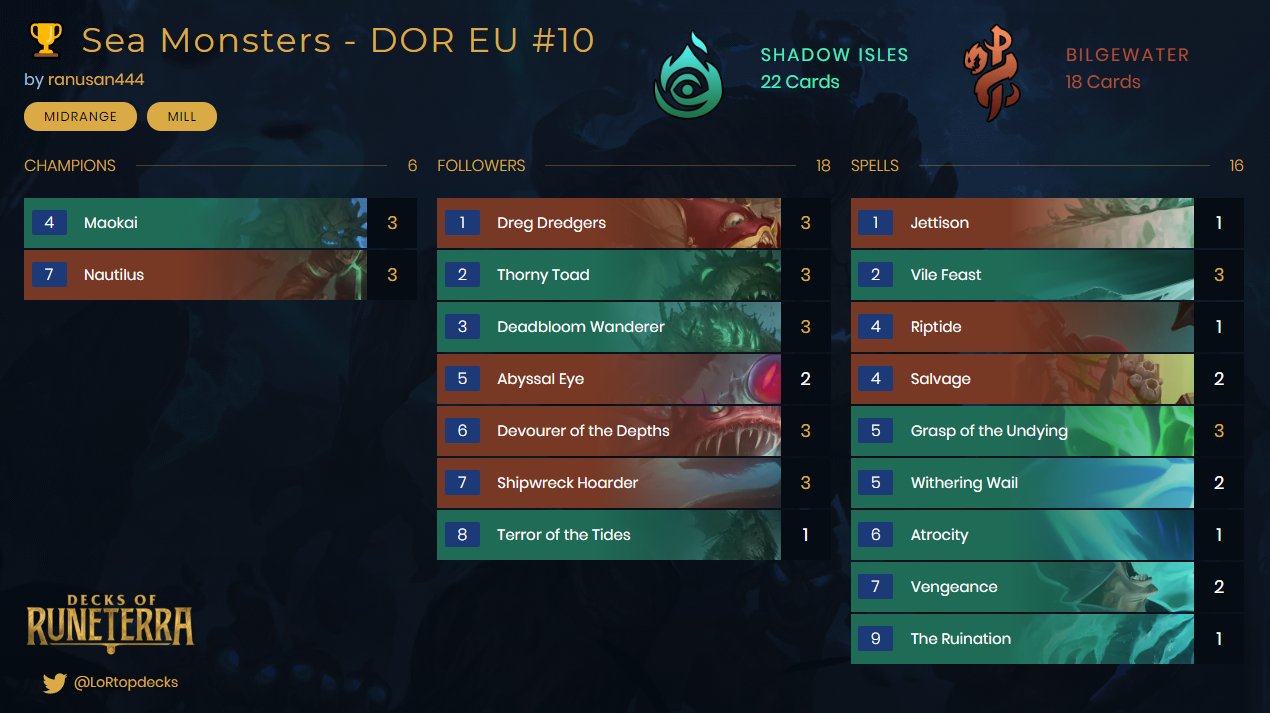 Sea Monsters also flourished in a burn-less meta. A Ruination clean-up into Deep board development is a powerful win condition for the deck, whose threats are incredibly difficult to remove, especially if you can ban Ionia and/or Shadow Isles.
Can I play it on ladder: Yes, absolutely. This is perhaps the best midrange deck right now, even better than Bannerman.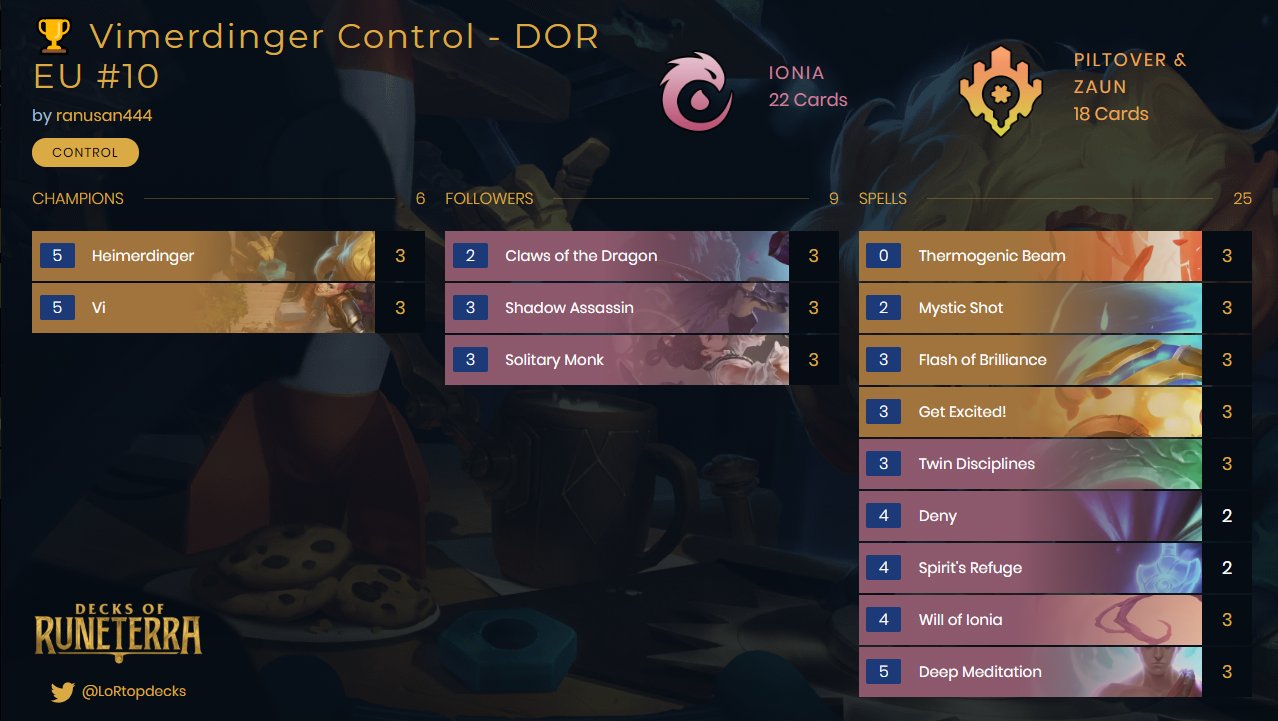 Vi/Heimer (or Veimer) Control remains the top control deck to play. Despite nerfs to Vi and Deep Meditation, the infinite value that Heimerdinger can generate is enough to out-value other control decks and stifle pressure from midrange opponents.
Can I play it on ladder: Yes, absolutely. It's the best control deck right now.
Duels of Runeterra NA #10 — freshlobster's championship decks
Freshlobster used the exact same trio of archetypes in his championship line-up, the decks only varying by a few cards.